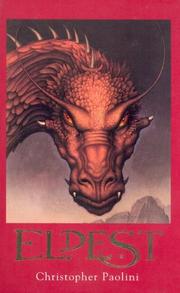 FIC PAO BK.2
Eldest / Book Two
New York : Alfred A. Knopf : Distributed by Random House, c2005.
xvii, 681 p. : map ; 24 cm.
After successfully evading an Urgals ambush, Eragon is adopted into the Ingeitum clan and sent to finish his training so he can further help the Varden in their struggle against the Empire.
Lexile: 970L
Available
Hardback Book
1 copy available at Milford High School
| | |
| --- | --- |
| ISBN: | |
| LC Call No: | PZ7.P19535 El 2005 |
| Dewey Class No: | [Fic] 22 |
| Author: | |
| Title: | |
| Edition: | 1st ed. |
| Publisher: | New York : Alfred A. Knopf : Distributed by Random House, c2005. |
| Physical: | xvii, 681 p. : map ; 24 cm. |
| Series: | |
| Series: | |
| Notes: | Map on endpapers. |
| Citation/Refs: | Kirkus Review, July 2005 |
| Summary: | After successfully evading an Urgals ambush, Eragon is adopted into the Ingeitum clan and sent to finish his training so he can further help the Varden in their struggle against the Empire. |
| Target Audience: | |
| Target Audience: | |
| Subject: | |
| Subject: | |
| Subject: | |
| SAE:PersonlName: | |
| Link: | |
| Link: | |
| Link: | |
| Field | Ind | Subfield | Data |
| --- | --- | --- | --- |
| 001 Control No | | | 11317 |
| 005 LastTransaction | | | 20150325125104.0 |
| 008 Data Elements | | | 050920s2005 nyub d 000 1 eng |
| 010 LCCN | | $a Record content licensor | 2005009325 |
| 020 ISBN | | $a ISBN | 978-0-375-82670-2 |
| 035 System Ctrl No | | $a System control number | (ICrlF)38215G |
| 035 System Ctrl No | | $a System control number | (ICrlF)fol09663491 |
| 040 Cataloging Src | | $a Original cataloging agency | DLC |
| | | $c Transcribing agency | DLC |
| | | $d Modifying agency | DLC |
| | | $d Modifying agency | ICrlF |
| 042 Authentication | | $a Authentication code | lcac |
| 050 LC Call No | 00 | $a Classification number | PZ7.P19535 |
| | | $b Item number | El 2005 |
| 082 Dewey Class No | 00 | $a Classification number | [Fic] |
| | | $2 Edition number | 22 |
| 100 ME:PersonalName | 1 | $a Personal name | Paolini, Christopher. |
| 245 Title | 10 | $a Title | Eldest / |
| | | $c Statement of responsibility | Christopher Paolini : |
| | | $b Remainder of title | Book Two. |
| 250 Edition | | $a Edition statement | 1st ed. |
| 260 PublicationInfo | | $a Place of publication, dist. | New York : |
| | | $b Name of publisher, dist, etc | Alfred A. Knopf : |
| | | $b Name of publisher, dist, etc | Distributed by Random House, |
| | | $c Date of publication, dist, etc | c2005. |
| 300 Physical Desc | | $a Extent | xvii, 681 p. : |
| | | $b Other physical details | map ; |
| | | $c Dimensions | 24 cm. |
| 440 Series Title | 0 | $a Title | Inheritance |
| 490 SeriesStatement | 1 | $a Series statement | Inheritance ; |
| | | $v Vol. no./sequential designatn | bk. 2 |
| 500 General Note | | $a General note | Map on endpapers. |
| 510 Citation/Refs | 3 | $a Name of source | Kirkus Review, July 2005 |
| 520 Summary | | $a Summary, etc. note | After successfully evading an Urgals ambush, Eragon is adopted into the Ingeitum clan and sent to finish his training so he can further help the Varden in their struggle against the Empire. |
| 521 Target Audience | 2 | $a Target audience note | Young Adult |
| | | $b Source | Follett Library Resources. |
| 521 Target Audience | 8 | $a Target audience note | 970 |
| | | $b Source | Lexile |
| 650 Subj:Topic | 1 | $a Topical term | Dragons |
| | | $v Form subdivision | Fiction. |
| 650 Subj:Topic | 1 | $a Topical term | Fantasy. |
| 650 Subj:Topic | 1 | $a Topical term | Youths' writings. |
| 800 SAE:PersonlName | 1 | $a Personal name | Paolini, Christopher. |
| | | $t Title of a work | Inheritance ; |
| | | $v Volume/sequential designation | bk. 2. |
| 852 Holdings | 1 | $h Classification part | FIC PAO BK.2 |
| | | $i Item part | PAO |
| | | $p Barcode | 31765000307414 |
| | | $9 Cost | $16.10 |
| | | $a Location | MHS |
| 852 Holdings | 1 | $a Location | HPE |
| | | $h Classification part | F PAO |
| | | $i Item part | PAO |
| | | $p Barcode | 37895000244475 |
| | | $9 Cost | $17.85 |
| 856 ElectronicLocat | 41 | $3 Materials specified | Table of contents |
| | | $u Uniform Resource Identifier | http://www.loc.gov/catdir/toc/ecip0510/2005009325.html |
| 856 ElectronicLocat | 4 | $3 Materials specified | Cover image |
| | | $u Uniform Resource Identifier | https://covers.openlibrary.org/b/id/234013-M.jpg |
| 856 ElectronicLocat | 4 | $3 Materials specified | Author photo |
| | | $u Uniform Resource Identifier | https://covers.openlibrary.org/a/olid/OL1425963A-M.jpg |
| 940 | | $b | Young Adult |
| | | $d | 08/26/05 |
| | | $s | Kirkus Review, July 2005 |
| | | $v | FLR |
| 961 | wl | $t | 2 |
Editorial Reviews