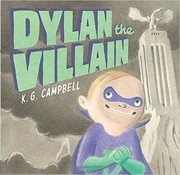 E CAM
Dylan the villain
New York, N.Y. : Viking, 2016.
1 v. (unpaged) : col. ill. ; 26 x 28 cm.
Dylan's parents have always boasted that he is the "very best and cleverest super-villain in the whole wide world," but when he meets Addison Van Malice, his powers are put to the test.
Lexile: AD 490L
Reading Level: 3.6
Available
Book
1 copy available at Jacques Memorial Elementary School
| | |
| --- | --- |
| ISBN: | |
| LC Call No: | PZ7.1.C33 Dyl 2016 |
| Dewey Class No: | [E] 23 |
| Author: | |
| Title: | |
| Publisher: | New York, N.Y. : Viking, 2016. |
| Physical: | 1 v. (unpaged) : col. ill. ; 26 x 28 cm. |
| Citation/Refs: | Publisher's Weekly, November 2015 |
| Citation/Refs: | Booklist, January 2016 |
| Citation/Refs: | Horn Book, October 2016 |
| Citation/Refs: | Bulletin (Center for Children's books), March 2016 |
| Citation/Refs: | Kirkus Review, December 2015 |
| Summary: | Dylan's parents have always boasted that he is the "very best and cleverest super-villain in the whole wide world," but when he meets Addison Van Malice, his powers are put to the test. |
| Target Audience: | |
| Target Audience: | |
| Target Audience: | |
| Target Audience: | |
| Subject: | |
| Subject: | |
| Subject: | |
| Link: | |
| Field | Ind | Subfield | Data |
| --- | --- | --- | --- |
| 001 Control No | | | 56653 |
| 005 LastTransaction | | | 20171108084400.0 |
| 008 Data Elements | | | 151007s2016 nyua b 000 1 eng |
| 010 LCCN | | $a Record content licensor | 2015026039 |
| 020 ISBN | | $a ISBN | 9780451476425 |
| 035 System Ctrl No | | $a System control number | (ICrlF)0450JZ |
| 035 System Ctrl No | | $a System control number | (ICrlF)fol15911588 |
| 040 Cataloging Src | | $a Original cataloging agency | DLC |
| | | $b Language of cataloging | eng |
| | | $c Transcribing agency | DLC |
| | | $d Modifying agency | ICrlF |
| 042 Authentication | | $a Authentication code | pcc |
| | | $a Authentication code | lcac |
| 050 LC Call No | 00 | $a Classification number | PZ7.1.C33 |
| | | $b Item number | Dyl 2016 |
| 082 Dewey Class No | 00 | $a Classification number | [E] |
| | | $2 Edition number | 23 |
| 100 ME:PersonalName | 1 | $a Personal name | Campbell, K. G. |
| | | $q Fuller form of name | (Keith Gordon), |
| | | $d Dates associated with a name | 1966- |
| 245 Title | 10 | $a Title | Dylan the villain / |
| | | $c Statement of responsibility | by K.G. Campbell. |
| 260 PublicationInfo | | $a Place of publication, dist. | New York, N.Y. : |
| | | $b Name of publisher, dist, etc | Viking, |
| | | $c Date of publication, dist, etc | 2016. |
| 300 Physical Desc | | $a Extent | 1 v. (unpaged) : |
| | | $b Other physical details | col. ill. ; |
| | | $c Dimensions | 26 x 28 cm. |
| 510 Citation/Refs | 3 | $a Name of source | Publisher's Weekly, November 2015 |
| 510 Citation/Refs | 3 | $a Name of source | Booklist, January 2016 |
| 510 Citation/Refs | 3 | $a Name of source | Horn Book, October 2016 |
| 510 Citation/Refs | 3 | $a Name of source | Bulletin (Center for Children's books), March 2016 |
| 510 Citation/Refs | 3 | $a Name of source | Kirkus Review, December 2015 |
| 520 Summary | | $a Summary, etc. note | Dylan's parents have always boasted that he is the "very best and cleverest super-villain in the whole wide world," but when he meets Addison Van Malice, his powers are put to the test. |
| 521 Target Audience | 0 | $a Target audience note | 3.6. |
| 521 Target Audience | 2 | $a Target audience note | K-3 |
| | | $b Source | Follett School Solutions. |
| 521 Target Audience | 8 | $a Target audience note | 490 |
| | | $b Source | Lexile |
| 521 Target Audience | 8 | $a Target audience note | AD |
| | | $b Source | Lexile |
| 650 Subj:Topic | 7 | $a Topical term | Supervillains |
| | | $v Form subdivision | Fiction. |
| 650 Subj:Topic | 7 | $a Topical term | Competition (Psychology) |
| | | $v Form subdivision | Fiction. |
| 650 Subj:Topic | 7 | $a Topical term | School stories. |
| 655 IT:Genre | 7 | $a Genre/form data or focus term | Humorous fiction. |
| 852 Holdings | 1 | $h Classification part | E CAM |
| | | $i Item part | CAM |
| | | $p Barcode | 36580000286756 |
| | | $9 Cost | $15.44 |
| | | $a Location | JES |
| 856 ElectronicLocat | 4 | $3 Materials specified | Cover image |
| | | $u Uniform Resource Identifier | https://covers.openlibrary.org/b/id/7879411-M.jpg |