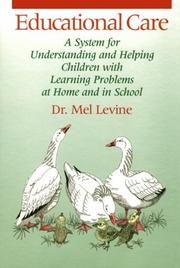 PRO 371.92 LEV
Educational care : a system for understanding and helping children with learning differences at home and in school
Cambridge, Mass. : Educators Pub. Service, c2002.
xi, 367 p. : ill. ; 27 cm.
Educational Care, a resource for parents and Teacher's, provides suggestions for dealing with the specific needs of individual students. The book focuses on the link between home and school, using case studies to illustrate key points.
Available
Professional
1 copy available at Milford High School